Microdermabrasion Cost
Lets make one thing absolutely clean – microdermabrasion is a wonderful procedure. Even one such facial treatment will leave your skin clear of the dead skin layer, glow-y and baby smooth. But when you consider microdermabrasion cost, the treatment loses a lot of it's appeal. Adding to it the fact that to keep this wonderful luminescence you have to repeat the procedure every week as your skin is constantly building up the dead skin layer – this wonderful, in-depth scrub is not for the average person. Fortunately, there are alternatives…
Salon microdermabrasion treatment takes about 10-30minutes of the beauty therapist's time and ma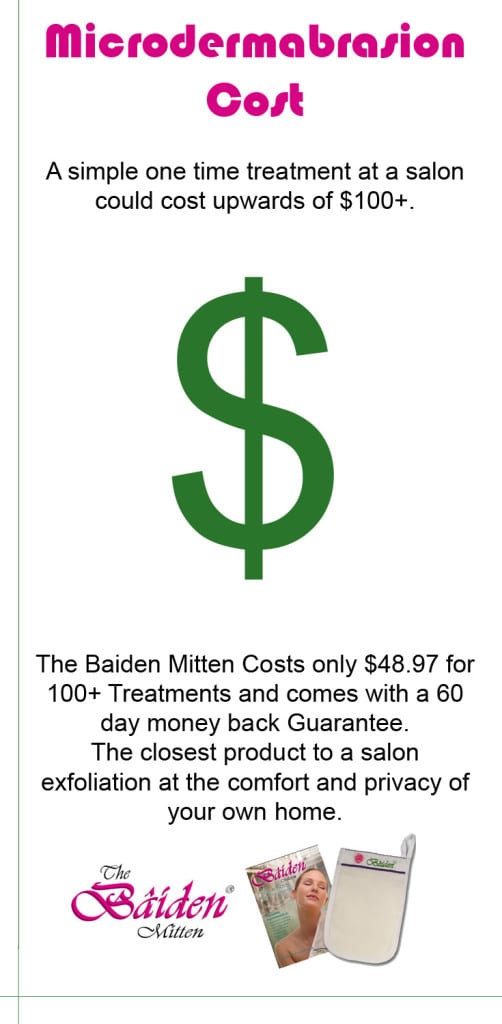 kes use of expensive equipment which either sand blasts your skin with fine crystals and then sucks them up or uses a diamond tip to scrape away the dead skin layer much as if you would sandpaper it.
An average microdermabrasion cost ranges from $120- $240/each treatment. To see any real difference in your skin's condition it is recommended that you have a series of 10 sessions, one week apart.  Of course you can prepay and get a bundle of 10 treatments which will cost you less/session, but you still have to be prepared to fork out anywhere between $800-$1500 for 10 visits. However, it could be worth it if the results were permanent. Sadly, this, is not the case.
As your skin constantly builds up new dead skin layer, within 4-6 weeks after your last appointment, your skin will be back to square one. Unless you have unlimited amount of money, the cost of microdermabrasion could get out of control.
So, to keep your skin constantly fresh, smooth and glowing, you might have to consider 2-3 series of microdermabrasions per year. That could add up to $4500. For some of us, that amount could make a serious dent in our student loans 🙂
If you are thinking of giving up on microdermabrasion treatments by now – don't.
What if I would tell you that you could practically the same effect for less than $50/ 2 years. I am talking here about 100+ microdermabrasion treatments for $48.97 all up!
Wait, it gets better! (no, we will not throw in a set of steak knives into the deal 🙂
What we are offering you is a series of 100+ microdermabrasion treatments not just for your face, but for the rest of your body as well. ALL for one price of $48.97. Baiden Mitten will last about 2 years of continued use – it does not get much better than this.
It comes in a shape of a deceivingly simple dermabrasion tool called Baiden Mitten. Thanks to the way it is weaved, it has the capacity to remove all of the dead skin layer. Just like microdermabrasion does, it will unclog the pores, even out the skin coloring, remove blackheads, help control acne and even diminish scars.
Professional strength dermabrasion, all over your body.
Best of all you can use the Baiden Mitten in the comfort of your own home and watch your skin improve with each and every treatment.
Baiden Mitten has a cult following among tens of thousands of  women and men all over the world is because of its simplicity and power to help with problematic skin. Thousands of people rave about it's effectiveness.
With Baiden Mitten, you don't have to worry about microdermabrasion cost – everybody can afford this simple and effective tool and in case you think that it might be too hard to believe – we offer 60 days money back guarantee on your purchase so you can see for yourself the effects on your own skin.
Purchase Baiden Mitten
here