Laser scar removal
The Whole Truth About Laser Scar Removal
Do you avoid mirrors and hide your skin because of ugly scars? Are you so desperate to get rid of this problem that you would consider even laser scar removal?
Having scars, especially on the face could affect you psychologically as well as emotionally. Luckily for you, there are various treatments for acne scar removal laser scar removal being just one of them.
The first step you should take in this process is to consult a dermatologist. Acne scar removal procedures have become very common. Remember when choosing a method of removal, consider the condition of your skin. If you have sensitive skin you should try the least abrasive procedure available.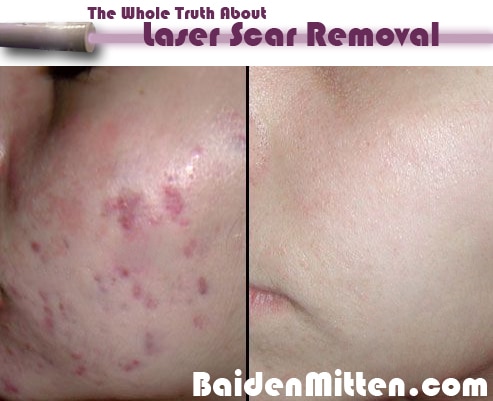 Some acne scar removal options are dermabrasion, collagen injections, steroid injections, laser treatment, chemical peels or various home treatments. Some treatments may not completely remove all scars but the appearance of most of them will lessen dramatically. Your doctor's recommendation toward a certain procedure depends on the type and severity of the scarring.
Dermabrasion is a procedure done under local anesthetic in which the doctor will remove the top layers of skin with a sanding instrument. It is one of the most effective treatments available for facial scar removal. It is not recommended for people with darker skin because it could reveal lighter layers of skin, which could cause another problem with your appearance.
Collagen injections are a less permanent solution to acne scars. They generally last from 3-6 months and require future injections to maintain their effect.
Steroid injections are a long term treatment for acne scar removal. The side effects of this procedure are minimal, but there is a chance that the scars will still remain visible.
Chemical peels can also produce excellent results but, as with dermabrasion, they should not be used for people with darker complexions as they can significantly lighten the treated areas. There are also evidence that chemical peels may weaken the skin's structure.

Laser scar removal treatment is becoming widely available with fractional laser treatment. It is a non-invasive, technologically advanced approach to scar treatment that offers excellent results without the discomfort and downtime of surgery.
Laser scar treatment uses short pulses of micro-fine laser light to reach deeply into the skin's sub-layers, treating the support structure. Then the body's natural healing process sweeps away older, damaged tissue and rebuilds it with fresh, new collagen and elastin- the crucial building blocks of normal-looking skin.
In just a few fast treatment sessions scars are much less visible without hurting the surrounding skin. It's a fast and simple procedure that's easy to tolerate and requires little to no downtime.
Laser scar treatment is FDA-cleared for surgical scars and acne scars on any area of the body, including the face and it can work on many skin types, including very light and very dark skin.
The procedure can be performed in as little as 30 minutes, depending on the size of the treatment area.
Although there might be some initial discomfort during and after the procedure, the pain can be managed with pain killers.
Typical side effects include temporary redness and swelling at the treatment site, which should last only a few days.
The only real downside to laser scar removal is the fact that it can run into thousands of dollars because it has to be performed by a medical specialist and most people may need three to seven treatment sessions for optimum aesthetic results.
When it comes to home scar removal, the most effective treatment on the market would have to be Baiden Mitten exfoliation, followed by moisturizing either with Bio Oil or Coconut Oil.
Baiden Mitten offers the deepest exfoliation without actually hurting the skin. Additionally it provides a very deep skin massage which stimulates skin's natural self-repair abilities.
Bio and Coconut Oil are very well known for their abilities to help with skin repair. When applied to skin exfoliated with Baiden Mitten, their effect is multiplied which results in most scars being significantly reduced.
While home methods will not get rid of deeper scars completely, many people report that a significant reduction in the appearance of their scars is good enough for them to keep them away from more extreme methods of scar reduction.